Art On Fabric "Lina's" - Limited Edition
---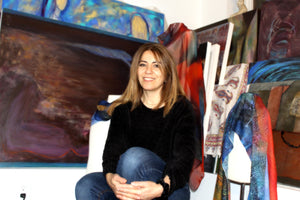 Lina Faroussi
In all my paintings, I work toward conveying emotions or ideas rather than a reality.
There is always an inner dialogue in each of my artwork, reflecting human's constant desire for evolving and prosperity.
Each series of paintings mirrors a different state of
mind, a spiritual moment, a doubtful moment, or an echo from the past.
My work reveals many levels of emotion.
ABOUT the Artist
Testimonials
"Lina is an amazing inspirational visual artist who expresses her vision and feelings through her art. The emotion she evokes in her work transcends culture, so much so that anyone anywhere even without any artistic background is drawn into your vision".

Debbie Hermes - Canada
"Lina's art is original and emotional. It displays a deep sensibility while digging deep through the many layers of her memories. ٍSome of her work reflects the struggle between two worlds: the real enslaved world and the free world that she dreams of. The figures in her art are suffering through these transitions while penetrating the real world. I have become fascinated by the beauty of Lina's artwork".

- A. Kamli (ICT Consultant) - UAE
"I was excited when I moved to a new house but at the same time overwhelmed by the empty and silent walls. The warm and vibrant colors of the artwork "Home" by Lina Faroussi gave the space life".

F. Nana - Canada
"I love Lina's talent! I love the artwork and how it translates into scarves. The quality is amazing, and I highly recommend them. Let us support living artists around the world".

Rajaa Azouqa - Canada
"The painting that I received from Lina feels very personal to me as it is a piece of her and her journey as a woman that intersects with my journey as a woman in facing similar challenges to seek change and transformation that I desire in my life and self-growth. Truly inspiring".

Amal Sheikh - Canada
I have this beautiful artwork "Catch the Moment" , in my living room, where I can see it all the time. And the beauty is that every time I look at it I see something new.. and a new experience unfolds!!

E. Karajeh - Canada
I picked this painting "Dreamy Woman" to gift it to my wife, I loved the color, the texture and the oriental elements I found it in the painting, such a beautiful piece of art. but mostly loved the "dreamy woman", hoping each woman to achieve her dream. Thank you, Lina, for producing beautiful art. we love your art.
Will Hazza - Canada
The paintings workshops with Lina, rekindled my childhood dreams and hobby of painting. It was a very friendly environment and Lina's teaching style was clear and easy to follow. I enjoyed her art critiques and learned a lot from them! Thank you Lina,
Omayma Lulu - Canada
"Amazing workshop led by the most kind and creative artist Lina! You will be surprised after you start how your brain will allow you to produce a totally new and unique idea. This is because of the process of mentoring that Lina adopts and the critique that Lina provides."
Reem Sharaa - Canada
" What I liked most, that Lina saw us through to the end and for believing in us. During the 4 weeks, I learned the blending technique & how to paint with acrylic which I was not comfortable with it before Lina's class."
Zeni Sharif
"I liked most Lina's instant feedback on our work! I learnt how to work with the small or big brush strokes, by applying the wrist or the elbow movement. It was very informative and a pleasant opportunity to meet other Art lovers".
Mariam Joumaa - Germany
Thank you for helping me through this entire process. You have been such an inspiration and a great mentor to have. I love how you show us the brushstroke techniques and how to achieve a certain object and or texture, cannot begin to thank you enough for rekindling my passion and love of art again. You are kind and patient, You teach in such an effortless demeanor, and just the way you are, your energy and smile make the world of a difference!
Tala Tabari - Canada
It was my first experience attending a painting workshop. I was not expecting to learn about colors, brushes, techniques all at once, and most of all, learning how to analyze paintings (Value, texture, etc.). Lina is so very creative, inspirational and patient. She unlocked my creativity and her connections and messages helped me a lot with my painting skills.
Mayda Elias
Thank you for everything! Amazing class amazing instructor and coach.
Hind Zarif - Canada
Buy Original Art & Expression Painting
Looking for a way to express your unique style and ideas? Abstract art is the perfect way to express ideas and emotions and Lina's art store is a great place to find unique and original artwork for sale. Welcome to our online contemporary art store. You'll find a wide variety of original abstract paintings and prints that offer a great way to express your innermost thoughts, unique style or simply show off your artistic side.
Beyond Beauty
Here at Lina's Art Store you'll find original art pieces that are not only beautiful but also emotive. Lina Faroussi, the international artist behind Lina's Art Store, is committed to expressing those innermost thoughts and feelings that we often find difficult to put in words. Her expression painting pieces mirror different states of mind and of being. Shop pieces that reflect those doubtful moments in life or a moment of peace and clarity.
Lina's art is a great way to express your emotions and unique style. These art pieces can help you create just the right mood in a room. Why not wear a scarf that features abstract art that expresses your current state of mind? Visit our online store now and shop our collection to discover original art that expresses many levels of emotion and make it part of your day to day life.
Lina's a distant echo from the past that reflects her Middle Eastern background. These contemporary art pieces feature vibrant colors and texture. Every single piece digs deep into different layers of emotion. It's not uncommon to experience different emotions with the same art piece. Shop your original artwork and begin your own journey to uncovering different layers of emotions and your adventure to discovering your unique style.
Affordable original art
Are you looking for a unique art piece to add to your collection? Perhaps you're just starting out and want an expressive piece to set you off on your journey of discovery. You can buy affordable original art right here on Lina's Art Store. Browse our selection of art to discover emotive pieces that offer great opportunity for self-expression. We feature paintings in different sizes and at varying prices. Browse our selection and buy original art without breaking the bank.
Surround yourself with art
At Lina's Art Store, we believe that art isn't something that should be confined to the walls of a room or a corner in your home. Lina's art is an expression of our different states of mind. It is an expression of our innermost thoughts and feelings. With our art fabrics you can now express your feelings, thoughts and emotions however you wish. Wear a scarf to express your unique style or to reflect your current state of mind. Hang up art curtains to breathe life into your space and add a unique touch to your décor. Create the right mood at your dinner table with an art table runner.
Thank you for visiting Lina's Art Store. Shop our selection to find art pieces that give life to your thoughts and emotions.